Selfie Park is a public sphere for private celebrities.
EXCERPTS FROM A SELFIE PARK SCREENPLAY:
The contemporary city needs a new kind of park – one appropriate to its many intersecting cultures, bridging the worlds of the celebrity, the artist, and the everyday citizen, an outlet for individuals seeking self-expression. People need a place to be alone, a place to be together – they need a place to be alone together.
The 'selfie' is the latest development in a long history of self-portraiture.  Selfies have evolved recently with dramatic changes in technologies, but in some form they have been with us for over a century. They are a record of self, a chance to capture time with a group. People of all types, from all walks of life are drawn to this behavior. With the advent of social media, their popularity is growing. Selfies are instantly deployed to larger audiences. New ways to use them are constantly evolving. 'Selfie' was Oxford Dictionary's 'word of the year' in 2013. They are an underexplored but nascent and growing art form, spawning internet memes and demanding further study.  More recently, devices have been invented which extend our ability to capture ourselves, changing our behaviors in public space.
The time has come for selfies to have space of their own.
Selfies give you permission to define your self. To be private in public. To be public in private. In this way they are like a park- the selfie can sponsor a new public realm.
We propose a 'selfie park' to augment the city's natural strengths, capitalize on the behaviors of those visiting, to provide a forum for a new public sphere, a space for the generation of new forms of art, and a space for individuals to find themselves within this mix.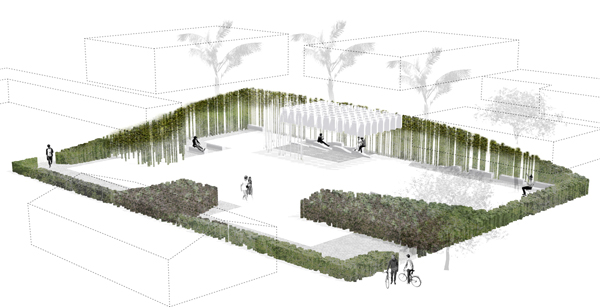 The park is developed around three features of selfie activity: scenery, lighting, and pose, giving people choice in their selection of environment, their lighting condition, and their positioning on furniture within the park. The scenery is provided by a mass of planting and lighting at varying densities, which edge the site to create boundaries, and a series of exterior rooms at a number of scales. The planting creates both privacy screens and public stages, allowing the park and the people who visit it to oscillate between introverted and extroverted behavior. One can find a quiet, intimate space to be alone in the morning, and the park can open up, come alive at night with art walks, exhibits, concerts and public events. Overhead tree canopies, and a 'constructed pavilion' are nestled in the planting to provide calibrated qualities of light and shadow for people to enjoy.
The pavilion captures natural cycles of light, and creates new ones, with a programmable LED array programmed to light different events and activities after dusk. Lightweight panels bounce diffuse and dappled light into the space below. People explore the space to find the most flattering light. Artists and event organizers are encouraged to experiment with the array as an armature for installations, photography, and video. Like the park itself, it is an instrument for inquiry into the exchange between cultures of individual celebrity and everyday activity. Custom seats, benches, and steps provide places to sit, linger, and pose along the edge of the 'rooms' and in the 'pavilion'.
But it's more than a selfie park, it accommodates all sorts of public activities…weddings, performances, group classes, Yoga, and photo walls for red carpet events. The park is filled with dreamers wanderers explorers. People from the neighborhood use it every day. Visitors seek it out. Artists use it as a laboratory for new types of production. The evolution of the space is documented in social media. Visitors can choose to upload their experience there, or tune out, and turn inward.
People come to enjoy the space – and to test the limits of the self.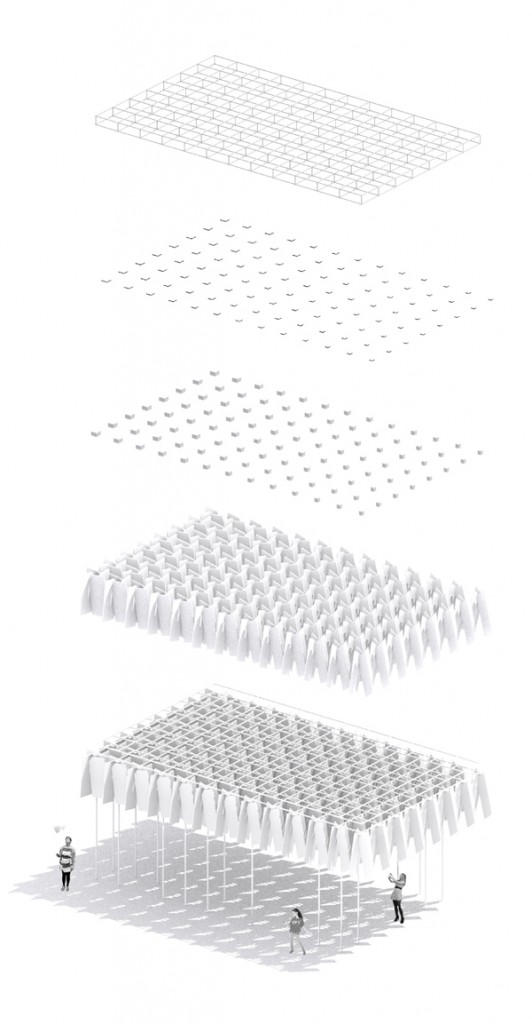 Project Details:
WELDED STEEL STRUCTURAL FRAME:
A dense array of painted 2X2 steel tube members provides a robust and interdependent structural matrix. Redundancy in this lightweight approach supports the dead load of the pavilion and provides adequate bracing for wind loads.
CUSTOM CNC MILLED PLATE PIVOT CONNECTIONS:
Cut to the 12 different square profiles with threaded connections in a 'pinwheel pattern' to accept the pivoting pin. Stops are in place to limit the rotation of the panels to avoid collision with neighboring assemblies.
TUNABLE WHITE PROGRAMMED LED MATRIX
From dusk until the park closes, and just before daybreak, the pavilion lighting shifts slowly from warm to cool hues of white light in a coordinated pre-programmed array to produce dappled effects. Events in the pavilion can alter the programming for stage use and performances.
STRESSED RESIN-COATED FABRIC PANELS
1" Aluminum Frame provides a lightweight, flexible, and adjustable baffle to bounce light in different patterns below. Frames are cut to shape in 12 different sizes to provide different densities of light. Frames include thicker profiles at the base to act as a counterweight, allowing them to hang straight in light wind. Resin-coating provides a weather-proof finish and a slight sheen to increase the play of light.