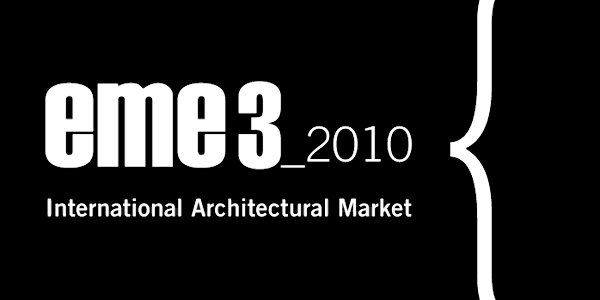 AGENCY has been selected to exhibit work in the International Architectural Market at eme3 2010, an annual international architectural festival and exhibit in Barcelona.  This year's exhibition will include work from several design firms from around the world who are interrogating the status quo in the fields of architecture and design.  Projects will be displayed as part of a multidisciplinary festival, October 7-9, 2010, in the Hall at the Center for Contemporary Culture of Barcelona (CCCB).
According to the event organizers:
"The main goal of eme3_2010 is to reflect and debate about the present situation of the architectural discipline and the role played by the architect, in order to rethink and reformulate its possibilities, its compromises and its limits. What can an architect 'do'?"
The Market is the most emblematic section of the three day event, which will also include lively discussions, debates, audiovisual presentations, and workshops surrounding the theme.
From CCCB's website:
Eme3 operates like an architectural market, with installations shown in lots, urban projects, workshops, lectures, debates, street events, music and films.  The festival is targeted at all those who are interested in architecture, design and art in general. Eme3 offers visitors a chance to discover emerging architecture, and an opportunity to share discussions and reflections with renowned architects and designers.
AGENCY will exhibit its recent award-winning project, Super Levee Urban Farm, and will contribute to other events during the week.  Stay tuned to the AGENCY blog to learn more.
Other practices participating in the exhibition include BIG/Bjarke Ingels Group, Atelier Bow Wow,dpr- barcelona, hackitectura, and many more.
Keep an eye on the organizer's website, and register for events here.