AGENCY Principal Ersela Kripa will direct nineteen students from the NJIT architecture program in the Siena Studio, the New Jersey School of Architecture's study abroad program for graduate and undergraduate architecture and design students. This is Kripa's second year directing the program, which has met with considerable success in past years, with student work being exhibited publicly and published in Siena last summer and exhibited in New Jersey this spring.  Under Kripa's direction, students visit sites throughout Italy exploring the many interdisciplinary and influential contributions of Italian culture to theoretical design legacies and contemporary practice. Through a series of coordinated exercises and workshops in practices of observation, mapping, drawing, painting, and designing, the students develop attitudes and actionable strategies for engaging Italian sites and situations.
The program spends two weeks in Rome in late July, and will travel to Siena in early August, where they will begin work with the City of Siena to propose interventions for an internal street, a rediscovered public space within the historic
Santa Maria Della Scala
near the
Siena Cathedral
. The street has been absorbed within the former hospital, with access limited to paying visitors for years.
The City of Siena
is considering reopening the street to the public, and has invited the Siena Studio to develop designs for the newly conceived space during their stay – asking 'what is the potential character of a contemporary, partially privatized and conditioned street, in a city renowned for its use of streets and squares as public space and urban spectacle?'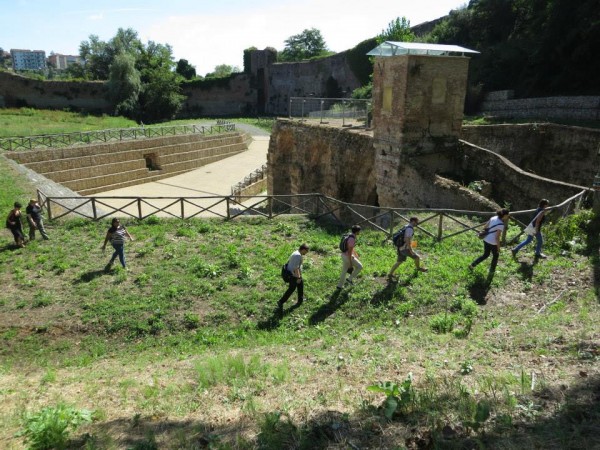 The project is one of an intended series of projects over a five-year series of studios, which Kripa has organized with Sienese architects and local officials interested in defining objectives and possibilities for Siena's future designation as European Cultural Capital in 2019.  Working with Enrica Burroni (Architetto Enrica Burroni),
Laura Ermini
 (Comune di Siena Urban Planning Office),
Rolando Valentini
 (Comune di Siena Urban Planning Urban Planning Office) and the
cultural assesor's office
, the program intends to produce designs for Siena's public spaces over the five year period.
Fontebranda, an historic fountain near the city wall which had been in disuse for decades. Students designed articulated pathways and landscape strategies, coordinating the visitors' experience from the bustling city fabric of the medieval city to this romantic and forgotten work of public infrastructure on the periphery. City officials and leading designers from Siena were in attendance at the studio's final review.  This year's studio marks the second year of the five-part series.
The Siena Studio enjoys a long history at NJIT. For years, founded by Peter Lang, and under the direction of Jim Dart and Darius Sollohub, the program has long been a hallmark of the education of NJIT students abroad. Kripa extends this legacy with a rich set of itineraries and workshops, drawing on a network of professional contacts and colleagues in the realm of architecture, art, and design. This year, students will collaborate for the second time with noted contemporary Italian architects and artists.  For a complete description of the studio and updates on projects and travels, follow the studio blog at www.sienastudio.org and stay tuned for updates on the AGENCY blog.